Points of Interest
Gold Belt Tour Scenic and Historic Byway
The Gold Belt Byway Association
Disc Golf Tournament
Come join us on June 3, 2023 at the stunning Alta Vista Golf Ranch in Victor, Colorado for the Double Down for the Byway disc golf tournament! This doubles tournament will have a shotgun start and take place on an 18-hole course at an altitude of 9600 feet, providing breathtaking views of the Pikes Peak and the Sangre De Cristo Mountain Range.


Center of Politics, Finance, and Entertainment
---
Teller County Road One
At an elevation of 9,396 feet, Cripple Creek was the center of politics, finance, and entertainment for the Mining District. Cripple Creek boasted two opera houses, 75 saloons, eight newspapers and a stock exchange by the late 1900s. Today, limited stakes gaming has revitalized Cripple Creek's economy.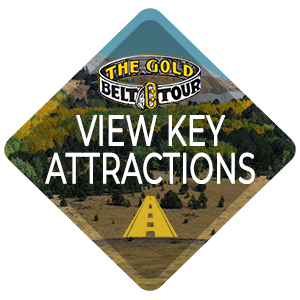 You can experience a taste of the past by descending into the Mollie Kathleen Mine, visiting the Homestead Parlor House or riding the Cripple Creek & Victor Narrow Gauge Railroad. Enjoy casinos, shops and restaurants, as well as a melodrama in the historic Butte Opera House. The Cripple Creek District Museum tells the story of the great gold camp and is also the starting point for a self guided walking tour of historic downtown. In June, join Cripple Creek as it celebrates Donkey Derby Days.
Cripple Creek Welcome Center
P.O. Box 430
Cripple Creek, CO 80813
(877) 858 4653
Lodging
Mechanic
Camping / RV Parks
Shopping
Dining/Restaurant
Grocery Store
Medical Services
Gasoline
Convenience Store
Visitor Center
Florissant
Founded in 1870 along Ute Pass Trail, Florissant was the first community on the western slope of Pikes Peak. Travelers, traders, and Indians stopped here long before the discovery of gold and silver in the mountains to the west. Mining booms in Leadville and Aspen brought the tracks of the Colorado Midland Railroad through Florissant in 1886. Before the completion of the Midland Terminal Railroad to Cripple Creek in 1895, the wagon and stage route between Cripple Creek and Florissant linked the Mining District to Colorado Springs and points west via the Colorado Midland Railroad. To learn more about this hamlet's colorful history, visit the Florissant Heritage Museum.
Lodging
Mechanic
Camping / RV Parks
Shopping
Dining/Restaurant
Medical Services
Gasoline
Convenience Store
Visitor Center
Florissant Fossil Beds National Monument
The peaceful ponderosa pine forests and rolling meadows of modern Florissant are a sharp contrast to the violent volcanic activity that occurred here millions of years ago. Volcanic ash and mudflows preserved a priceless legacy - petrified redwood stumps and delicate plant and insect fossils dating to 35 million years ago.
This world class fossil site, known for its abundance of insect and plant fossils, gives us a detailed picture of an ancient environment and a chance to reflect on the ever changing nature of the earth. The historic Hornbek Homestead is located at the north end of the Monument. Enjoy visitor center exhibits, two self guided nature trails, hiking trails, and picnic areas. During the summer, a variety of ranger led programs are available.
Florissant Fossil Beds National Monument
P.O. Box 185
Florissant, CO 80816
(719) 748 3253
Services
Some services are available only at either end of the route.
Photos courtesy of Florissant Fossil Beds National Monument, Cripple Creek District Museum, Florissant Heritage Museum
---
A Look At Teller County Road One
Need Help With Ideas For Your Itinerary Of Your Tour?
We Can Help! Contact Gold Belt Tour Scenic and Historic Byway