Learn From Us
Gold Belt Tour Scenic and Historic Byway
The Gold Belt Byway Association
Follow These Tips For Your Comfort And Safety
---
Tips for Travelers
2021-01-01 | Gold Belt Tour Scenic and Historic Byway
Do not attempt Phantom Canyon Road or the upper portion of Shelf Road if you are traveling with a trailer, camper, or motor home. These routes are winding and narrow to one lane in many places.
Have enough gas, water, and other necessities to make it between the Byway communities.
Be prepared for changes in weather conditions. Depending on your travel route, you may experience up to 5,000 feet in elevation change.
Steep canyons along the Byway are subject to flash flooding from heavy rainfall. If you anticipate a flash flood, climb high to stay dry.
Avoid abandoned mine sites. They contain loose rocks, rotting timbers and deep shafts.
To avoid injury and trespass stay away from active mining sites.
Pull completely off the road when you stop to take pictures, view wildlife, or enjoy the scenery.
Watchable Wildlife
As you travel the Gold Belt Tour, notice the changing scene. The diversity of terrain coupled with large elevation changes give you the opportunity to observe many different plant and wildlife species along the Byway.
At the lowest elevations near Florence and Cañon City, notice the semi arid grasslands covered with perennial grasses and shrubs. Look here for scaled quail, western meadowlarks, and mountain bluebirds. Prairie dog colonies are often home to the secretive, ground nesting burrowing owl. Jackrabbits, coyotes, and kangaroo rats may cross your path.
The rugged rocky canyons and rolling hills between the grasslands and the mountains support pinon pine and juniper woodlands. The abundance of mule deer here make these areas prime habitat for mountain lions. Although you're not likely to see a mountain lion, you may see a roadrunner, relatively rare this far north.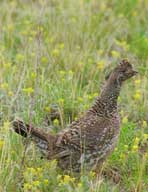 At higher elevations, ponderosa pine, Douglas fir, and white fir grow on cool, north facing slopes in the canyons. Look for golden eagles, prairie falcons, and red tailed hawks riding the air currents above the rugged cliffs along Shelf and Phantom Canyon Roads. These cliffs are also home to Rocky Mountain bighorn sheep.
In the high country surrounding Cripple Creek and Victor, you encounter subalpine forests of Engelmann spruce, subalpine fir, and quaking aspen. 
Notice bristlecone pine in windswept areas. Elk, black bears, and marmots are found here, along with the broadtail hummingbird, blue grouse and evening grosbeak. 
Along the Byway, look for "green ribbons" of cottonwood, willow, shrubs, and grasses bordering streams. These riparian areas provide a valuable combination of food, water and shelter for wildlife  and nearly 75% of wildlife depend, to some degree, on riparian areas.
To optimize your wildlife viewing, be very quiet and avoid sudden movements. Binoculars are very helpful. Early morning and evening are the best times to observe wildlife.
Outdoor Adventures
With such a variety of scenery and attractions, it's no wonder that the most popular activity on the Gold Belt Tour is sightseeing, but don't miss the opportunity to climb out of the car and try some other activities.
Fishermen can cast for brown, rainbow, and cut throat trout in Beaver Creek, Skagway Reservoir, or the Arkansas River all just a short distance off the Byway. 
For a leisurely lunch, find a shady spot and stop for a picnic along Phantom Canyon Road. 
Pull into a picnic area at Red Canyon Park along the Lower Shelf Road, or at Florissant Fossil Beds National Monument.
Dirt roads in the area offer a variety of terrain for mountain biking. 
The limestone cliffs near the Shelf Road provide world class climbing opportunities for expert rock climbers.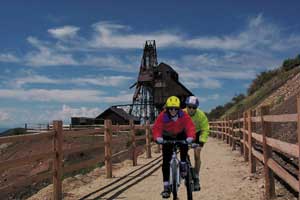 Hikers can explore the 27,000 acre Beaver Creek Wilderness Study Area on several miles of trail.
Hiking, mountain biking and horseback riding are also available on the Trails of Gold near Victor and Cripple Creek. Nearby, the Arkansas River offers a variety of boating experiences from "wet and wild" to more leisurely excursions. 
For visitors lacking experience or equipment, a licensed outfitter can be your ticket to experience the wet side of the river.
For those wishing to camp, commercial campgrounds are located along the northern and southern portions of the Byway. Most offer all amenities, including hookups. 
If you want to rough it, camping is permitted on public lands although no facilities are provided.
Photos courtesy of ZStudios
See More Articles
Need Help With Ideas For Your Itinerary Of Your Tour?
We Can Help! Contact Gold Belt Tour Scenic and Historic Byway