Points of Interest
Gold Belt Tour Scenic and Historic Byway
The Gold Belt Byway Association
Major Route for Stagecoaches & Freight Wagons
---
Shelf Road
Shelf Road transformed an untraveled wilderness into a major route for the stagecoaches and freight wagons traveling between the Arkansas Valley and the Cripple Creek Gold Mining District. The rugged route's name is 'THE SHELF', a five-mile stretch of road that hugs the sheer rock walls of above Fourmile Creek.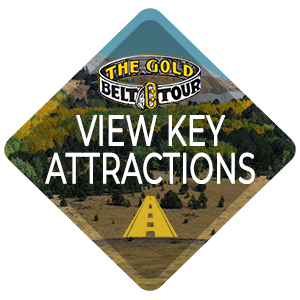 Arkansas River Walk
This trail offers a relaxing walk through several miles of cottonwood bottomlands.
Garden Park Fossil Area
Othniel Lucas, a Garden Park school teacher, discovered massive bones here in 1876. Subsequent excavations discovered such well known dinosaurs as Diplodocus, Stegosaurus, and Allosaurus. Specimens from this area are on display at the Smithsonian, Denver Museum of Natural History and other museums across the nation and around the world. Visit the Dinosaur Depot in Cañon City to learn more about the fossils of Garden Park.
Red Canyon Park
This 500 acre park contains unusual eroded red rock formations with spires up to 100 feet high. Facilities include picnic sites, restrooms and hiking trails.
Shelf Road Recreation Area
Climbers come from around the world to scale these limestone walls. The climbs are short but very difficult with few handholds and many overhangs. Several back roads near the climbing area provide opportunities for hiking and mountain biking.
The Shelf
This section of road perched high above Fourmile Creek has made for a memorable ride since its construction in 1892. Look for the lower tollkeeper's cabin in the canyon bottom. The tollkeeper climbed up the hill to collect tolls every time a wagon or stagecoach passed. Drivers were charged tolls at both the upper and lower toll gates.
Window Rock
This landmark rock, eroded by wind and water, is made up of 1.7 billion year old granodiorite. The stream paralleling this portion of the Shelf Road is Cripple Creek. Watch for Rocky Mountain bighorn sheep in this area.
Carlton Tunnel
The rock here was excavated during construction of the Canton Drainage Tunnel. Built in 1941, the tunnel stretches for over six miles to Squaw Mountain north of Victor. It drains water from mines down to an elevation of 6,893 feet, over 3,000 feet below most of the mine entrances. The portal of an older tunnel, the Roosevelt Tunnel, is three miles to the north. It was rendered obsolete with the Canton Tunnel's completion. Both sites are on private property.
Need Help With Ideas For Your Itinerary Of Your Tour?
We Can Help! Contact Gold Belt Tour Scenic and Historic Byway