Points of Interest
Gold Belt Tour Scenic and Historic Byway
The Gold Belt Byway Association
---
High Park Road
High Park Road and Colorado Highway 9 were originally trails that connected the ranches and farms of the mountain parklands west of Cripple Creek to Cañon City. The Currant Creek Trail followed the route of present day Colorado Highway 9. Well-traveled by American Indians moving between the Arkansas River and South Park, this trail became an important route for the mountain men, explorers and eventually, people and freight headed for the mining camps of Leadville and South Park.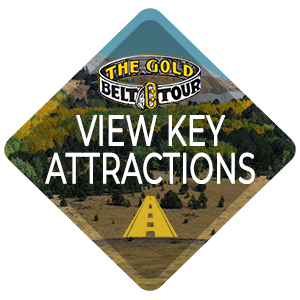 To settlers, the grassy meadows of High Park seemed ideal for raising cattle and horses; however, ranching and farming proved challenging occupations here. Settlers endured summer drought, harsh winters, unpredictable markets, rustlers and isolation. With the gold boom in Cripple Creek, ranchers and farmers enjoyed a convenient market for their products. In 1897, the Fremont County Cattlegrowers Protective Association formed allowing ranchers to work together on common problems and to share information on important issues. Today a few of the original ranches remain, a testimony to the tenacity of early settlers.
Look north for a postcard view of two of the region's most famous peaks. The cone shape of Mount Pisgah gives a clue to its volcanic origin. Pikes Peak, one of Colorado's famous "fourteeners" rises in the background to an elevation of 14,110 ft.
This deep chasm is spanned by America's highest bridge, The Royal Gorge Bridge, 1,053 feet above the river. At the bridge, take a ride on the tram and the incline railway and enjoy many other attractions within Royal Gorge Bridge & Park, a 360-acre amusement park located along the edge of the Royal Gorge around both ends of the bridge. The park near the bridge offers picnic areas and hiking trails. An Old West theme park, scenic railroad, gift shops and restaurants are nearby.
Please note that this is a brief description of a few of the attractions, sights and historical exhibits along the road.
Need Help With Ideas For Your Itinerary Of Your Tour?
We Can Help! Contact Gold Belt Tour Scenic and Historic Byway